---
Something that I have been wanting to do for a while, but have never done is share our dates. Dating is such an important part of marriage and I want to share what dates we do to inspire you! This month has been a little crazy because Andrew has been working 12 hours days almost every day this month because of the launch of a new project. So it was a wonderful surprise when he messaged me yesterday at 3 pm saying he is coming home early. We knew we had to treasure this time so we tried a new date: Mini Golf!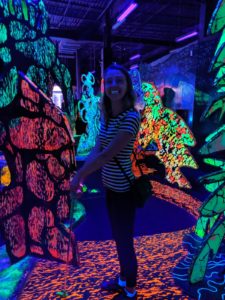 Due to the unpredictable weather, we went to Putting Edge an indoor mini-golf course. This course takes traditional mini-golf and gives it a funky twist with its black light setting. We would definitely recommend this to any couple who is in need of a fun and affordable date!
---
After mini-golf, the weather cleared and we weren't ready to go home so we went to Lansdowne to try out the new vegan cinnamon bun shop that just opened: Cinnaholic. It was AMAZING! We tried the Elderflower and the classic, both were delicious and fresh out of the oven. Next time we will split one though because of their size and sweetness. We can't wait to go back!