This week has gone by way too quickly! Today I am going to share all about our first week home with our sweet newborn Clara Grace and my personal postpartum recap. I've also included below all of my postpartum care must haves that I've loved using this week.
---
---
It's been one week since welcoming Clara Grace into our lives. Our week has been filled with soaking in every moment with her because it is true what people say time goes by so quickly. Thankfully Andrew was able to take time off from work so we can soak up these moments together and have time to adapt to our new life as parents. I can't even explain how full my heart is watching Andrew step into his role as Dad. He is doing such an incredible job and without him here I know this first week would have been more of a difficult adjustment trying to balance being a mom and recovering postpartum.
---
This post contains affiliate links, which means I make a small commission at no extra cost to you. See my full disclosure Here
---
Clara's 1st Week
During her first week, she has already changed so much and her little personality shines through at the most adorable times. At the hospital, she had her first bath and loved every minute of it! 
Once home we jumped right into following the Moms On Call program to get her on a routine. If you are like me and thrive on a routine I highly recommend their app because it tells you exactly what to do and when to do it which is a huge relief as a first time mom. Having this set schedule has allowed me to focus on learning how to breastfeed and learning her different cues. We have been blessed that she adapted so quickly and has a very consistent sleep routine which allows us 2-3 hour stretches of sleep in between feedings. On that note, she is a power eater and only lost 1oz between her birth weight and her 3 day check-up. 
Playtime has to be one of my favourite parts of my day with her because she is so alert! Whenever we see she isn't exhausted post mealtime we head to our Lovevery Play Gym. This play gym has been something I have been talking about all pregnancy (just ask Andrew) because I love the concept of learning with playtime versus being taught to be entertained. Check out their website for some awesome blog posts about this. Probably one of my favourite parts of this play gym is it comes with a play guide that walks you through how to use the play gym for their first entire year of life. Clara's favourite parts of her play gym right now are focusing on the black and white card set and watching the wooden rattle swing back and forth.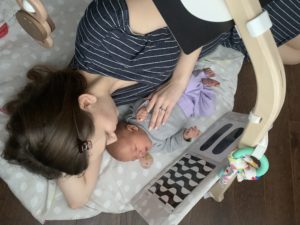 ---
1 Week Postpartum Recap
During pregnancy, I made it a priority to prepare for my postpartum recovery before Clara arrived because I knew I would get overwhelmed very quickly if I didn't have an idea of what to expect. 
Mentally I prepared by reading and watching other women's postpartum journeys through blogs + youtube. This helped me tremendously with preparing my mind for my new body and being ready to accept that with my new title of Mom I also got a new body. I think it's very unhealthy to have the mindset of 'bouncing back' because in many cases there is no turning back and I knew I would have that mindset if I didn't prepare myself for the changes that could happen. Now I am proud of my soft tummy because it was a safe home for my little girl to grow in and it did its job.
---
Postpartum Basket | All of My Postpartum Essentials
In our bathroom, I created a specific station for all of my postpartum products so I didn't have to run around the house to get what I needed and instead it was in the one spot that I did need all those products.
What's in it?
Depends Diapers: These are the one thing I wasn't too keen on because I didn't want to feel frumpy, but I am pleasantly surprised that they are extremely comfortable and feel like underwear. I also loved them because they were unscented.
Sitz Bath: This feels amazing! I have been taking one 10-15min before bed. My midwife gave me the tip to use a hairdryer to dry off after to keep everything clean. 
Frida peri bottle: This little bottle is essential!! It is easy to use, great for stitches and doesn't make a mess. The hospital will give you a peri bottle. But they are not very effective and difficult to maneuver especially if you have stitches. 
My Homemade DIY Padsicles + Peri Spray: I have been using both daily to soothe down there. They are extremely simple to make all you need is a few simple ingredients!
Perineum Ice Pack: They are made out of a gel material so it is gentle and very soothing. I throw it in the freezer overnight. Then I can easily use it first thing in the morning to take down any overnight swelling. NOTE The one I got is no longer easily available, but I've linked a similar product from the same company as the peri bottle I got. 
Disposable breast pads: For the first couple of weeks I am using disposable pads so that I do not need to worry about extra laundry. I will be switching these reusable ones once I run out of the disposable pads.
---
Tips For Surviving the First Week Postpartum
From being a  homemaker for 2 years I have learned a few things that have made my transition to motherhood smooth because I already had routines at home in place. Here are my top tips: 
1) Get ready for your day. For you, this may look very different based on what your previous morning routine was. For me this means changing out of my pyjamas before 9 am, putting on a coat of mascara, doing my hair, and then making the bed.
2) Make time for Jesus. Every afternoon Andrew and I take 15-30min during Clara's nap to dive into the word together. This time worshiping God together has already strengthened our marriage this week. 
3) The top 3. Make a list of 3 things that you want to get done that day. For example: do the laundry, bake lactation cookies, and go for a walk outside. This is helping me prepare for when Andrew goes back to work. I have also found it to be very calming. I complete them during my 15min of movement. 
4) Practice 45min rest 15min movement. It's easy to want to stay in bed in pyjamas and soak up all the baby snuggles. BUT my midwife suggested resting for 45min and then move for 15min. You would be amazed at what you can get done when you set a timer for 15min!
---
READ MORE ABOUT MY PREGNANCY + POSTPARTUM EXPERIENCE
DIY Padsicle + Peri Spray for Postpartum Recovery | Postpartum Recovery
Third Trimester Pregnancy Recap…Still Pregnant | Pregnancy